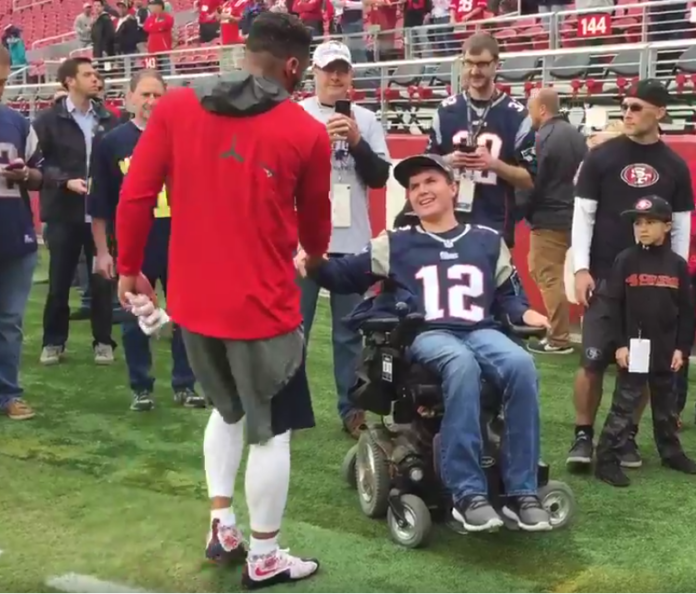 Patriot's Fan Happy with an Act of Kindness
Joey Jacobsen was 10 years old when the woodcutting accident happened. He's come a long way since and is happy with an act of kindness from Patriot strong safety Patrick Chung. Here is a note from the Grand Forks Herald:
This story of miracles and belief began Nov. 22, 2008, when Jacobsen and his dad, Tim, ventured up the Sierra Nevada mountains near their home in Minden to cut firewood.

"My dad didn't know where I was, I didn't know where he was and a tree hit me in the head," Jacobsen said.

He was airlifted to Renown Children's Hospital in Reno, Nev., where doctors didn't expect him to survive.

"They told Tim and I that he had an hour to live," Robbi Jacobsen said. "His doctor told us he was the sickest person in any of the hospitals in Reno."




Although Joey lost the use of his legs and his left arm is not 100%, he appears mentally 110% on top of his game. He graduated high school with eight scholarships. He is on his way to college to follow his heart and career in sports management.
And, by thw way, how is a kid from North Dakota living in Nevada a Patriot's fan? Especially when most of his family are Vikings fans! From ESPN:
His family mostly cheered for the Vikings, and he recalled that when he was 4 years old he asked his mother what her favorite team would be if it wasn't Minnesota. Her response: "Because I'm a Patriotic person, I like the Patriots."

"Ever since then," Jacobsen explained, "I've been a die-hard Patriots fan."
Patrick Chung's act of kindness increased his excitement for the future.




Nice moment as @PatrickChung23 stops to give his gloves to Joey Jacobsen (@joeyjacobsen24) of Minden, Nevada. pic.twitter.com/iRYLdzqh6s

— Mike Reiss (@MikeReiss) November 20, 2016