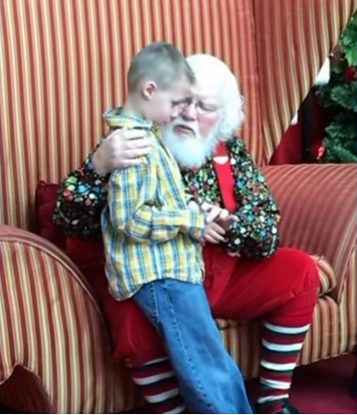 Autistic Boy is Nice not Naughty!
Landon Johnson will be fine in his life. But, he got hung up on something he had been told by adults. They have said, "you don't need to be so naughty," or, "why are you so naughty?"
Well, Landon didn't start talking until he was almost 4 years old. He appears to be slow. In fact, he is called autistic. He may not have responded quickly to the questions of adults. So, people that don't know him may have mistook his autism with being naughty.


Sadly, Landon's impression of himself was that of a naughty boy. And, as December rolls in and Santa comes on the scene, whether you are naughty or nice becomes an important part of the conversation. for a 5 year old boy!
At Christmastime, Landon didn't want to be on the naughty list. He was worried that he would get coal in his stocking saying, "You get coal when you are bad. Santa brings you coal when you are bad."
Fortunately, Santa was warm, compassionate, thoughtful and caring. Santa said, "it's okay to be who you are." Santa spoke softly saying, "You know I love you. And the reindeer love you. It's okay. You're a good boy. You know, life is beautiful. We have to take it together. We'll always be together."
Santa said he heart melted. Landon concluded, "I am not going to get coal."


It's cool to hear Landon in the video say, "I'm a good guy." He's certainly nice not naughty. And he's thankful about his visit with Santa, when he excitedly said, "he was a real Santa Claus. Yeah!!" Good story. Watch.