Many of us feel amazement when we think of the love, strength and intelligence of our mothers.  I am fortunate in that respect as well. I grew up with a mother who is most noted for her bright smile and adoring nature.  She sees the beauty in children, animals, senior citizens – all people and things.
And she's not afraid to show it!
If you know her, you are smiling because you know this is true.  Growing up, she was confident with an unwavering knowing that love, goodness and "allowing' yielded the greatest intelligence.  I casually observed this positive example as I grew up.  Smiling, compassion and care was the food I was fed.  Day after day, I was bathed in the sunshine of smiles.  Month after month, I knew support.  Year after year, I gained the confidence that 'this' was the gateway to the greatest gifts.
How could I not smile and care for other people?  How could I be anything else? You know, while growing up, I considered my mom a single mom for quite a while, although she was just single for a short time. But it was a critical time with three kids (12, 10 and 7 at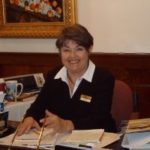 that time), she drove the school bus, worked on the Massachusetts Turnpike, then ran her own business with great dedication. She supported her kids so we never felt lack, not even close. Respect grew. It only allowed growth. She was far and away the 'go to' person who commanded respect in our town through her kindness, compassion, love and… her smile.
Writing this post was inspired by a video that I just watched just one minute ago, which we can all relate and appreciate.
Please watch this video below: