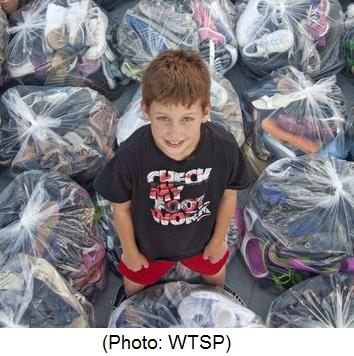 If a 9 year old can do it, what are you capable of doing? Mikey Solava's mom, Tina, showed him some pictures of poor children in Africa around the time the family went to Disney World. Through the course of vacation and living daily life, his mom forgot about the incident.
But it stuck in Mikey's mind. He felt bad. So, Mikey had a reasonable thought, "if I can have nice shoes, why can't they?" He started a shoe drive! They collected over 100 pairs of shoes for poor kids on their first weekend. They have a goal of 25,000 shoes and so far have collected 3,700! How can we support them? It's estimated that 400 million children worldwide live in poverty. Mikey and his family are trying to make life more comfortable for them showing them they care.
You can send shoes to Mikey at these addresses (or you can start your own shoe drive!).
The story came form this website at WTSP.com. There are couple of videos there. Below is a video for Soles4Souls.