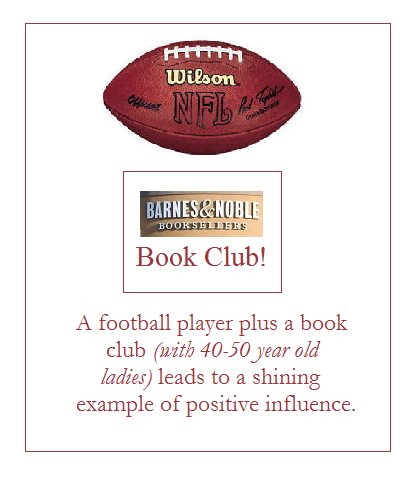 Positive Influence – Be like Malcolm.
Here's a story of positive influence that will make you smile. I didn't know what to expect when I watched it, but I am impressed by this young man named Malcolm Mitchell. It began with a chance encounter in a Barnes and Noble book store between the young football star and a forty-something year old woman.
He is a 22 year old football star at the University of Georgia.  While his gift is football ability, Malcolm expressed that his reading was at about a 7th grade level. The following is what a complete person does. This is what a confident person does. This is what a trail blazer does. It's what a cool person does – what a person of positive influence does.
He is making his own choices, not following the choices of society or peers. "He doesn't care what anyone thinks." In fact, someone called Malcolm a nerd. Upon hearing that label he thought and said, "I was proud of it." He paused and then commented, "it's like a badge of honor to me, knowing where I came from." He began to put as much effort into his reading as his football.
This is where you say 'yes' to opportunity and wrap your arms positively around everyone in the world. Malcolm says, "football came naturally" to him. Reading is work. He's a well spoken young man living a positive example. All the best wishes Malcolm.