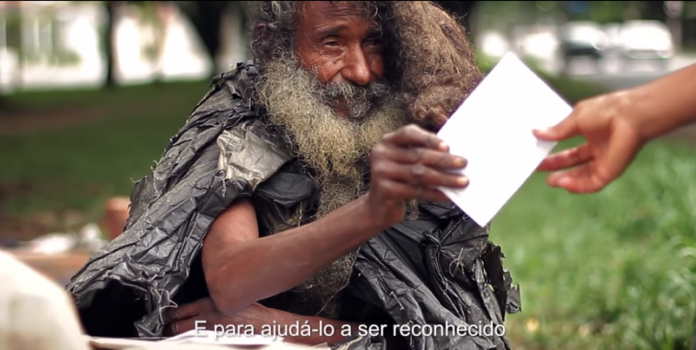 Raimundo Arruda Sobrinho Homeless Poet
Raimundo Arruda Sobrinho  is 77 years old. He had been homeless for 35 years. That is until Shalla Monteiro met him in April 2011.
Shalla said that Raimundo used to live in a place that he called, "the island," which is simply the grass on a street median.
When she saw him for the first time, he gave her one of his poems. From that moment, he became a part of her life. She said, "writing is his passion. He writes every day." Shalla continued by saying that he is a man and he is an artist.
Raimundo always wanted to publish a book of his poems, but living in the streets made it 'impossible' for him.
That's when something great happened. In the beautiful, supportive world in which we live, Monteiro created a Facebook Page (which now has 151,000 Likes!). So, now, he could publish his poems.
What about Raimundo's Family?
After the Facebook page, she said that people began getting close to him. People wanted to meet him and know him. Yet, he was without family or friends.
But, Facebook has a pretty big reach. Soon, Shalla got a message from Raimundo's brother.
His brother said tearing up, "after fifty-seven years, I was able to find you. When I arrived at the Island, I found a man – in the midst of garbage, hairy and unshaven, with no hygiene whatsoever. Knowing that this person was my brother. I suggested that he come live with me."


Raimundo's brother continued saying that his other family members (brothers) are still alive. All of them are still alive. Raimundo is the one missing to complete. The emptiness they had. The brother continued that, 'He's not a guest in his new home. He's part of the family with my wife and children – an intergral part.'

After all these years, now finally Raimundo and Shalla are going to publish his book. His dream is coming true after so long. Stay tuned for the completion of the book and watch the video below.

He even has a Wikipedia page. 

Below, you'll see some of Raimundo's story is here in this video. Keep an eye on his Facebook Page for details on the book's publish date.