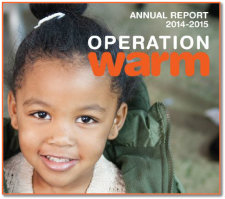 The more we can increase awareness of those in need, the more help can be provided. You never know what will inspire people to act. I would like to mention a giving organization that has been very busy over the last 16 years – particularly the freezing cold winter last year.
Operation Warm provides new coats to children in need inspiring hope in a dignified way and has been doing so since 1998. Operation Warm delivers new coats because they feel that this can help with a young person's self-esteem. Further, many of the kids have never owned a new coat.
If you are looking for an organization to which to donate, consider Operation Warm. If you know of an area that could use the assistance of Operation Warm, the link is here.  If you want to get involved, there are lots of ways here. Have a great day! Stay warm!