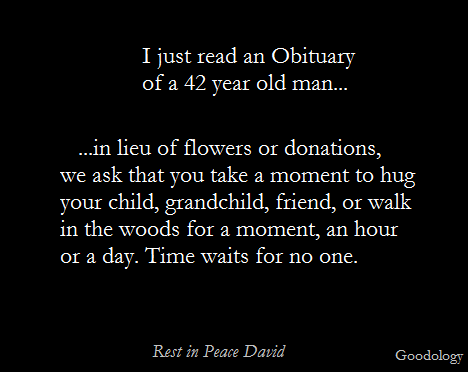 We get caught up in daily life that we forget to live. While scanning through Facebook I noticed an obituary – he looked young. He was – 42 years old. I wondered if I knew him. So, I clicked on the link.
The obituary was well written sharing his passions and loves, namely his daughters, 16 and 10 years old. David's mother and daughters asked that in lieu of flowers or donations, you take a moment to hug your child, grandchild, friend, or walk in the woods for a moment, an hour or a day. Time waits for no one."
Stop and take a breath. Appreciate life around you. Live. We all know what to do. Are we doing it? In the comment box below, share with others. Your ideas may inspire someone. Put a note about something you did. It can be a couple of words – hugged your child, breathed in the fresh air, appreciated a flower, smiled at a stranger… share anything at all.
This is the link to obituary for David.